Christmas Season in ICF
For to us a child is born, to us a son is given, and the government will be on his shoulders. And he will be called Wonderful Counselor, Mighty God, Everlasting Father, Prince of Peace.
Isaiah 9:6 | The Bible – New International Version
The story of Christmas has fascinated, touched and moved people for centuries. It reveals God's incomprehensible love for us humans. It continues to bring hope, turn the world upside down and invites us to discover new things. Every day, the Christmas story will be told in an approachable, authentic and practical way on TV and through the Christmas Celebrations with liturgical Christmas adventures, gospel worship with Noel Robinson, the grandiose Christmas Experience and the miracle of Christmas.
15 – 16 Dec.


Christmas Experience
Something special is imminent. A birth that will change the world forever.
But what happens when the outcasts find out about God's plan first? When acceptance is revealed in a single child? When Christmas is in our home and love is revealed there?
ICF Zurich invites you to rediscover the eternal story of the child in the manger in this unique Christmas show. A variety of food and drinks at the atmospheric Christmas market invite you to spend some time with your family and friends.
Free admission – collection
The Christmas market opens one hour before the start of the show and is then open all the time. The Christmas show is not suitable for children under the age of 8.
Getting there
We recommend getting there by public transportation. The number of parking spaces is limited.
Shows
Saturday, 15 December 2018 4pm / 8pm
Sunday, 16 December 2018 11:15am K,E,I / 3pm K,E / 7pm
K: separate kids' program (0-7)
E: English translation
I: Traduzione italiana

Seating
You will be assigned your seat on site so that you can visit the Christmas market. Enough seats are available for everybody.
If you would like to reserve a seat in advance, you can do this for a fee. Through this income, as well as the collection, you will make it possible for people who are searching for a warm family atmosphere on Christmas Eve to experience a wonderful Christmas. In addition, the resulting costs will be covered.
Christmas Celebrations
But the angel said to them, "Do not be afraid. I bring you good news that will cause great joy for all the people."
Luke 2:10 | The Bible – New International Version
An ICF Celebration as you have never experienced it before. On this Sunday filled with liturgical elements, we will embark on an interactive and reflective adventure towards intimacy with the author of the Story of Christmas.
9. Dec.


Gospel Worship with Noel Robinson
The British worship leader Noel Robinson is known for his mixture of gospel and funk. His joie de vivre and his passion for God are captivating and inspiring. An ICF Celebration full of energy and humor.
23. & 24. Dec.


Candle Light Celebration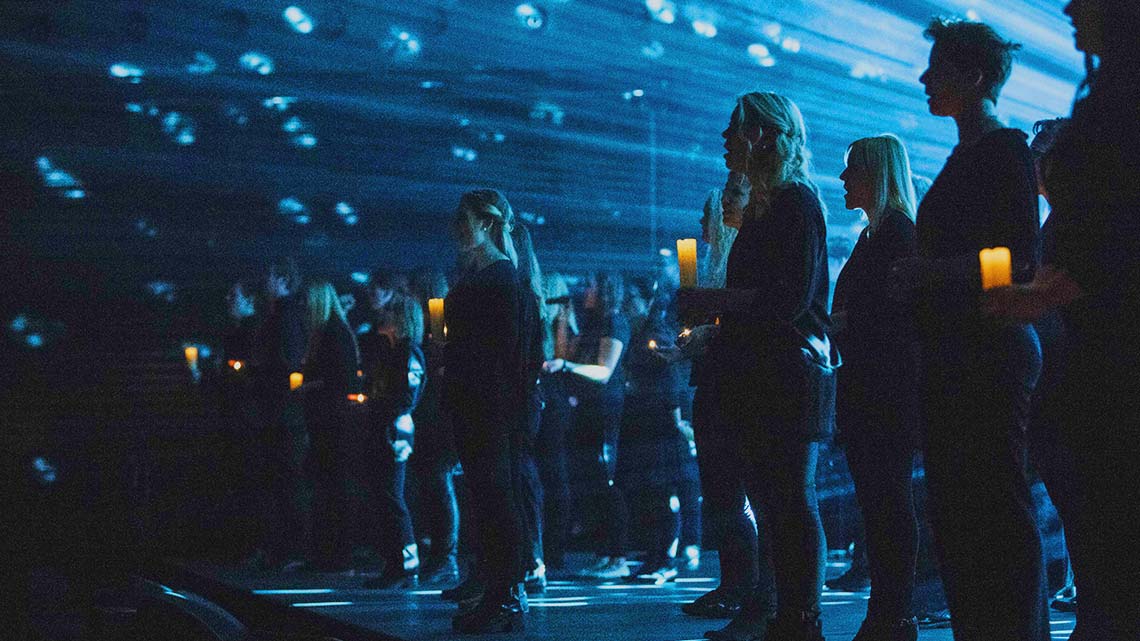 A touchingly contemplative candlelit ICF Celebration with wonderful music, a choir and the ICF Family. Discover the miracle of Christmas with your friends and family.
Candlelight Celebration:
Montag, 24. Dezember, 14:00 Uhr
Celebration Times
9:15 AM
11:15 AM
5 PM (English)
7 PM
Location
Samsung Hall
Hoffnigstrasse 1
8600 Dübendorf
24. December


CHRISTMAS PARTY AT ICF
On the evening of 24 December, we will open our doors and celebrate Christmas with people who are looking to spend Christmas Eve in a warm family atmosphere.
1. – 24. December


The Story on TV
The Christmas story is one of the greatest and best story of all. Already for the third time, Leo & Susanna will take us with them as they approach the topics in a modern way. Attainable, authentic and practical. The whole program is broadcast at prime time, at 8 pm every day on Star TV!
| | |
| --- | --- |
| 1. Dec. | Dream big, act small |
| 2. Dec. | Fearless |
| 3. Dec. | Waiting for the promise |
| 4. Dec. | Nothing is impossible |
| 5. Dec. | The chaos tunnel |
| 6. Dec. | Fighting right |
| 7. Dec. | You are you! |
| 8. Dec. | Do not fight alone |
| 9. Dec. | Fan curve |
| 10. Dec. | Fortunately forced |
| 11. Dec. | Enough is enough |
| 12. Dec. | Disappointed! |
| | |
| --- | --- |
| 13. Dec. | Unleash potential |
| 14. Dec. | Feast of love |
| 15. Dec. | Promised is promised |
| 16. Dec. | How do I deal with pressure? |
| 17. Dec. | Remember |
| 18. Dec. | Matter of opinion |
| 19. Dec. | Such an encourager |
| 20. Dec. | I am a gift! |
| 21. Dec. | Life insurance |
| 22. Dec. | Don't stop |
| 23. Dec. | The ICF Christmas Experience on Star TV |
| 24. Dec. | Christmas at last |
| | |
| --- | --- |
| 8pm on | |
Watch now
2. / 3. / 23. December


THE HOPE OF CHRISTMAS
Encouraging people in difficult circumstances
The fate of people from shattered circumstances does not leave our church cold. We also want to influence our environment and make a difference. We want to encourage and support kids from broken homes, single mothers or people without an everyday life structure: In the coming year we are organizing various exciting workshops with the ICF Foundation at our new workshop in Stettbacherhof (directly next to the Samsung Hall).
This year you have the possibility to sponsor these workshops.
They combine creative work with personal development and help the participants receive a new structure in everyday life. The workshops offer an environment with positive fellowship and enable these people to celebrate valuable personal success.