YOUR CHRISTMAS SEASON AT ICF
The eternal story of Christmas is full of unexpected mysteries. One story, so often told. Yet the trust in God, the love of God for all people and the adoration of Jesus are deeply rooted in it.The Celebrations are filled with inspiring Gospel worship, our highlight – the unique Christmas Experience, and at Christmas the touching and contemplative candlelight Celebration. And every day you can experience the Christmas story with Leo and Susanna Bigger in your living room in an approachable, authentic and practical way.
The Story of Christmas – Your Christmas season at ICF
14 – 15 Dec.


Christmas Experience
The eternal story of Christmas is full of unexpected mysteries. It is the story in which the Son of God sets out to show people the way back to the Father. In his unconditional love for people, he seeks their trust. But people are scared, and they are very afraid of the unknown. They have to learn to trust. The one. The God who loves them so much.
ICF Zurich invites you to rediscover the story of the child in the manger in this unique Christmas show. You and your family are also invited to enjoy your time together at the atmospheric Christmas market which offers a wide variety of food and drinks.
Free admission – (Collection)
The Christmas market opens one hour before the start of the show and is then open all the time. The Christmas show is not suitable for children under the age of 8.
Getting there
We recommend getting there by public transportation. The number of parking spaces is limited.
Samsung Hall, Hoffnigstrasse 1, 8600 Dübendorf
Shows
Saturday, 14 December 2019 5pm / 8pm
Sunday, 15 December 2019 11:15am K,E,I,P,S / 3pm K,E / 7pm
On Star TV
Monday 23 December 2019 8:15pm
Tuesday 24 December 2019 10:15pm
K: separate children's program (0-7)
E: English translation
I: traduzione italiana
P: tradução português
S: sign language

Seating
You will be assigned your seat on site so that you can visit the Christmas market. Enough seats are available for everybody.
If you would like to reserve a seat in advance, you can do this for a fee. Through this income, as well as the collection, you will make it possible for people who are searching for a warm family atmosphere on Christmas Eve to experience a wonderful Christmas. In addition, the resulting costs will be covered.
Reserve your seat
Christmas Celebrations
But the angel said to them, "Do not be afraid. I bring you good news that will cause great joy for all the people."
Luke 2:10 | The Bible – New International Version
1 Dec.


1st Advent Celebration

with message from Michael Sieber
An ICF Celebration as you have never experienced it before. On this Sunday filled with liturgical elements, we will embark on an interactive and reflective adventure towards intimacy with the author of the Story of Christmas.
8 Dec.


Gospel with Chinua Hawk (USA)

with message from Nicolas Legler
Chinua Hawk is a worshipper and gospel singer from Atlanta. Over a span of almost two decades, Hawk has produced five albums, including his most recent: Waiting on Christmas. Hawk has had many successes, including recordings with Talib Kweli and Kayne West, as well as writing songs with Wyclef Jean and performing with Celine Dion. "My music is about real life, it's about encouraging people. It's about what my Creator placed in my heart from a small child to achieve." – Chinua Hawk
An ICF Celebration full of energy and humor.
22 & 24 Dec.


Candlelight Celebration

with message from the family Bigger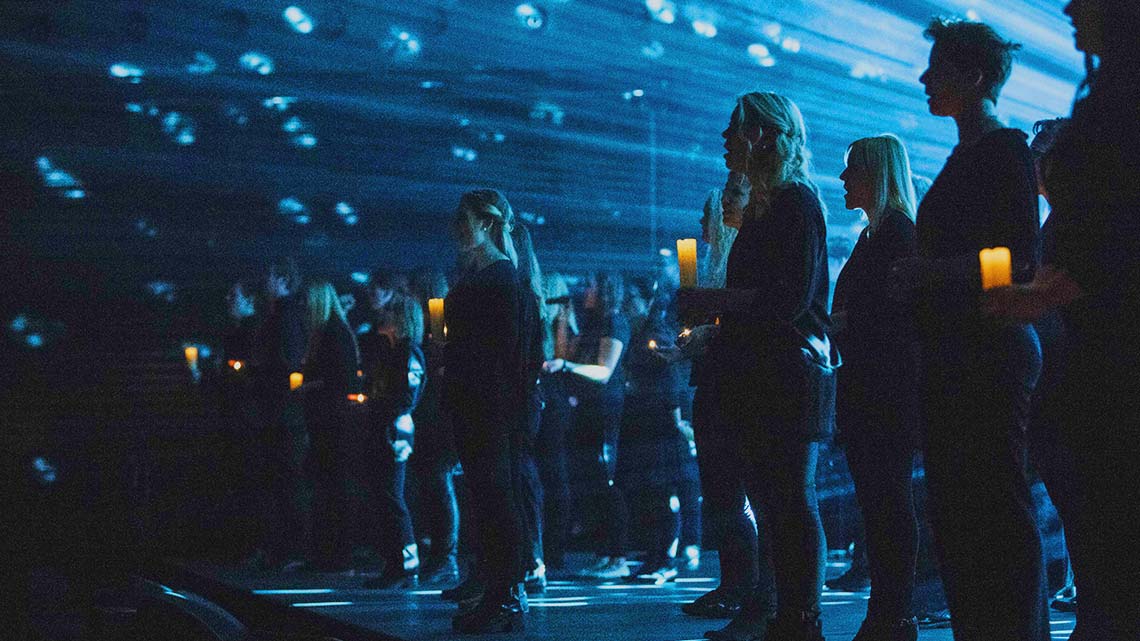 A touching and contemplative ICF Celebration with candlelight, wonderful music, a choir and the ICF family. Discover the wonder of Christmas with friends and family.
Candlelight Celebration:
Sunday, 22 December
Tuesday, 24 December, 3:00 pm
Celebration Times
9:15 AM
11:15 AM
5 PM (English)
7 PM
Location
Samsung Hall
Hoffnigstrasse 1
8600 Dübendorf
24 DECEMBER


CHRISTMAS CELEBRATION IN ICF
On the evening of 24 December, we are opening our doors and celebrating Christmas with people who are looking for a place in a warm family atmosphere on Christmas Eve.
We look forward to you joining us!

Would you like to be a guest?
Number of places are limited.
Would you like to help create the festive atmosphere and support actively?
1 – 24 Dec.


The Story of Christmas on TV
The Christmas story is the greatest and most beautiful story of all times. Once again Leo & Susanna are taking us on a journey as they put these topics in a modern light. Tangible, authentic and practical. All this at prime time, every day at 8 and 10 pm on STAR TV!
| | |
| --- | --- |
| 1 Dec. | Unfulfilled desires |
| 2 Dec. | Closer to God |
| 3 Dec. | Childless |
| 4 Dec. | Have no fear |
| 5 Dec. | Nothing is impossible |
| 6 Dec. | Summersault in the belly |
| 7 Dec. | Mary is excited |
| 8 Dec. | God turns the work upside down |
| 9 Dec. | God speaks |
| 10 Dec. | God's plan for your life |
| 11 Dec. | Save the world |
| 12 Dec. | Serve God |
| | |
| --- | --- |
| 13 Dec. | The king in the manger |
| 14 Dec. | The oldest open air |
| 15 Dec. | The power of silence |
| 16 Dec. | Ordained in the temple |
| 17 Dec. | Die in peace |
| 18 Dec. | Hanna waits on God |
| 19 Dec. | The great adventure |
| 20 Dec. | The mysterious star |
| 21 Dec. | Gifts for the king |
| 22 Dec. | Dreams save life |
| 23 Dec. | Why does God allow suffering to happen? |
| 24 Dec. | Happy Birthday Jesus! |
| | |
| --- | --- |
| At 8:00 and 10:00 pm on | |
Watch now (in German!)
This year we show repetitions. But we are already working on the new season for 2020 with a lot of passion.
The Christmas Experience 2019 will be shown on STAR TV on 23/12 at 8:15 pm and at 24/12 at 10:15 pm.
HOPE OF CHRISTMAS
Encouraging people in difficult circumstances
The fate of people from shattered circumstances and challenging living conditions does not leave us, as a church, unaffected. This Christmas we would once again like to have an impact on our environment and make a difference. We would like to encourage and support children from broken homes, single mothers or people without a daily life structure:
In the coming year we will implement various exciting workshops with the ICF Foundation in our workshop in Stettbacherhof (right next to the Samsung Hall). This year you have the opportunity to sponsor these workshops. They combine creative work with personal development and help the participants to a new structure in everyday life. The workshops offer an environment with a positive community and enable these people to celebrate valuable personally successes.
1 & 8 DECEMBER at the stand in the foyer
or online: