REACH HEARTBEAT
"We are blessed to be a blessing" – this is one of our deepest convictions as a family and as a church. We are thankful that God faithfully cares for us. We want to pass on this generosity. Together as a church we have already been able to have such a positive impact in our surroundings, country and in this world.
Through REACH we become a part of the answer every year. We become one with God's heart for the needs of our society. Through local and global projects, we enable people to get to know Jesus. We expand our home, encounter needs and injustice and globally plant dynamic churches at the heartbeat of time. No matter what your possibilities are: each one of us can do something and through this make a difference. Hereafter we will present the individual projects. We warmly invite you to become part of REACH 2019. Imagine what we can do together!
Thank you for your prayers and you financial support.

Leo & Susanna Bigger,
Senior Pastors, ICF Zurich
Offering Weekend
As a whole church we will have a special offering for the projects mentioned above on the weekend of 28 – 30 September 2018. You can bring along your financial contribution and put it into the offering basket.
Bank Transfer
Or you can make a bank transfer into the following account by end of June 2019:
Raiffeisenbank Zürich
8001 Zürich
IBAN: CH42 8148 7000 0089 6224 5
SWIFT-BIC: RAIFCH22
Purpose of payment: "REACH 2019"
Online Giving
Here you can donate with your credit card. The donation will be securely processed on the web page of our payment partner Stripe.
Give Online
REACH BEYOND
Can you imagine investing CHF 5,000 or more into the projects mentioned above and giving a firm financial assurance for the current year? If so, we invite you to register for REACH BEYOND in September.
REACH BEYOND APÉRO
If you are already a part of the REACH BEYOND or would like to find out more about it, we would like to invite you to a delicious apéro.
9 September 2018 | 12:45 pm
Samsung Hall, Foyer Balcony
Registration: till 5 September
 
Helping people get to know Jesus
"This is good, and pleases God our Savior, who wants all people to be saved and to come to a knowledge of the truth. For there is one God and one mediator between God and mankind, the man Christ Jesus."
1 Timothy 2:4-5 | The Bible – NIV
ICF STARTER BIBEL
We love seeing people get to know Jesus at the ICF Celebrations and events and accept him as their Lord and Savior. As a gift at the beginning of this new journey in life, we give an ICF Starter Bible to these people. REACH enables us to give away thousands of these Bibles every year.
ICF CHURCH ON TV
Since 2010, ICF Zurich has had the great opportunity to broadcast our Celebrations and other ICF produced programs, such as "The Story of Christmas" on various television channels. Through this, people can experience church and God within their own four walls. Many viewers have no possibility to attend a modern church in their surroundings. With our over 20-hour a week of broadcasting, we reach the entire German-speaking area of Europe via the ICF CHURCH ON TV and the English-speaking people throughout the world via God TV.
CF TV is present in the following channels: ANIXE (D/A/CH), StarTV (CH), SuperRTL (D), TOGGO Plus (D), Rhein-Main TV (D), God TV (EN), Bibel TV and Bibel TV Impuls (D/A/CH). Online you can find ICF CHURCH ON TV in the ERF media library and in our ICF Church YouTube Channel.
Planting churches all over the world
"Therefore go and make disciples of all nations, baptizing them in the name of the Father and of the Son and of the Holy Spirit."
Matthew 28:19 | The Bible – NIV
ICF CAMBODIA
For over four years we as ICF have been building church in Cambodia. We were able to experience a strong growth and see how many locals, young and old, got to know Jesus. We have already been able to baptize 222 people. Each weekend, 18 vans pick up over 700 children and teenagers to join the church Celebrations. They are loved and equipped by 120 volunteers and social workers in the villages and on the ICF Campus in practical ways. Through this and by discovering their divine potential, the circle of poverty can be broken step by step
Through the Kids Sponsorship Program, the living conditions of over 200 families in need could be improved long-term and over 400 children have been reached. Every month the team distributes over 5000 meals. Recently ICF Cambodia has also started a local business, which will bring additional sustainability and financial stability for the projects.
We support this young church and our Lead Pastors ND & Sophal Strupler so that ICF Cambodia can be a strong shining light of hope in this country.
ICF TEL AVIV
"Whoever blesses Israel, will be blessed." Based on this conviction, we as ICF are passionately building the local church in Tel Aviv. Our local Lead Pastors Sergey and Natasha Mazhuga have again experienced how new people encountered Jesus and found a home in ICF in this past year. An example of this is Mischa: after his military service he was invited to church by his brother. He not only got to know Jesus but is now passionately a part of the new ICF Kids Team. 
The first Ladies Lounge in Israel was a success and brought fresh life and passion into the church. The newly started online-ministry which streams the weekly Celebrations reaches 500 people throughout Israel. The goal for the coming year is to offer the Celebrations in further languages. The potential is big, and we are excited to see what God will do through this.
With our financial support we want to set the Pastors on location free to do their work, enable projects and encourage the planting of new churches.
ICF RIO
For some time now, a group of young Brazilians in ICF Munich have had a bold dream: that their friends and family in their home country can experience a church the way they have. A passionate church, in which people find a new hope, celebrate Jesus together and become more and more like him. 
At the first Vision Nights in Rio in December 2017, over 400 people attended! The moment of sending out at the ICF Conference 2018 was a great confirmation and encouragement. In November 2018 the time will finally be here. Bruno and Paulo Cordeiro are going to leave Germany to start the first ICF in South America in Rio de Janeiro!
First of all, we will focus on building community and groups on location. To strengthen this Startup Phase a further Vision Night will take place in January 2019 with Leo Bigger.
We are really excited about realizing this dream and pray that God will give us a breakthrough in Latin America. Muito Obrigado!
Strengthening our home
"We are his house … And the cornerstone is Christ Jesus himself."
Ephesians 2:20 | The Bible – NLT
PROJECT "STETTBACHERHOF"
At the beginning of 2017 we as ICF Zurich moved into our new home in the Samsung Hall in Stettbach. After many years of wandering, we finally arrived. The Celebrations and things on offer are developing very well and many new people have become a part of our "family" in the recent months.It has always been our desire to have a strong presence in the surrounding neighborhood during the week and not only at the weekends. Now we have the unique opportunity to rent a big area on the ground floor of the Stettbacherhof, right next to the Samsung Hall and realize this dream there!
Alongside a trendy café there will also be space for creativity and design. It is also our plan to offer various possibilities of work integration for people with impairments. 
With your financial support at REACH 2019 you will help to enable the renovation of the space.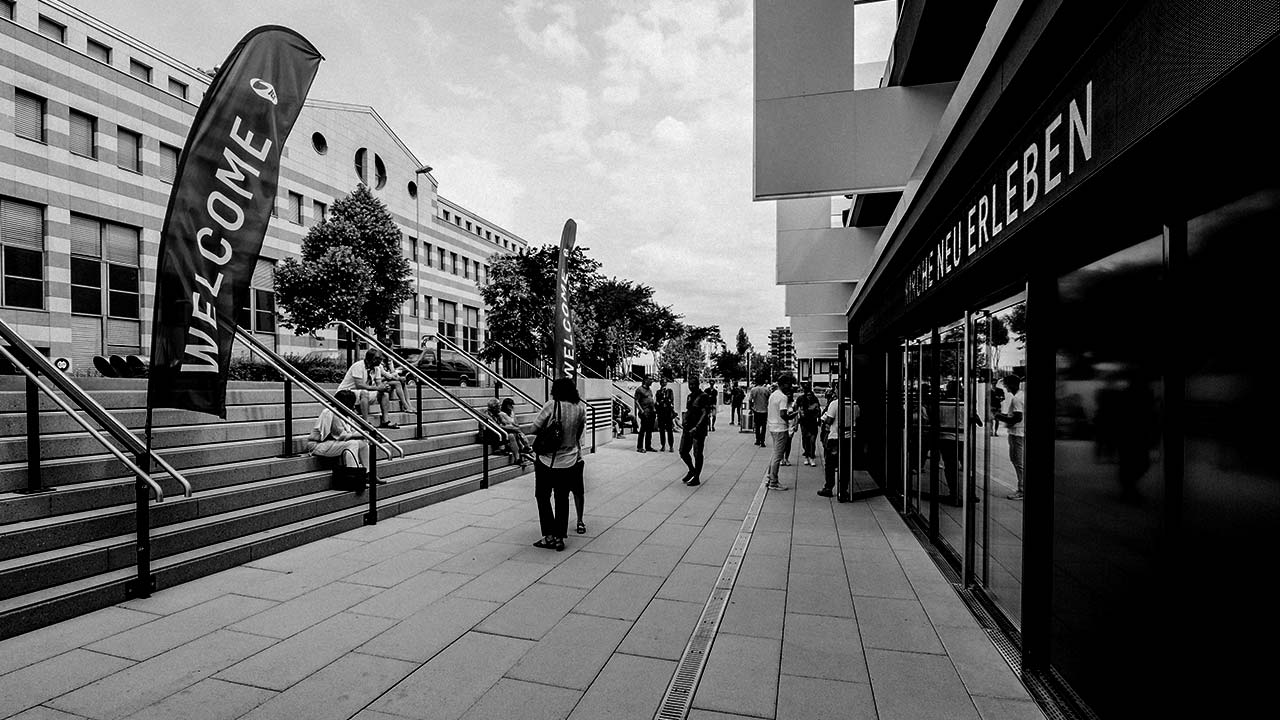 BUILDING FUND
It is our deepest conviction that the local church plays an important role in encountering the needs of society. So that we can effectively do this as ICF we need to act from a position of strength. 
For this reason, 10% of the total revenue of the REACH collection will flow into a fund from which future projects to further develop our locations will be financed.